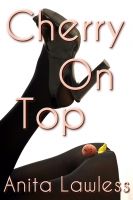 (XX)
C
oo, phew, after steaming my way through this one I think the downloadable box set is going to have to be on my list, Santa.
Cherry Logan gets the irony of her situation all too well. She's a virgin who just inherited a sex shop. Thanks to a crappy practical joke played by her dead brother, she must now run said adult store for one year, with a gorgeous ex-rock star she hates. This can only end in scorching sexual adventures.
Cherry On Top
(and click here for box set on Amazon) is the lively story of a knowing virgin who takes full advantage of a highly unlikely scenario. OK, most of us are not going to inherit a sex shop which we have to live in with a delectable hunk of sex machine but get over that suspension of disbelief and go for the moment with Cherry and Lenny. Ooh, and the ejaculation moment mmm. And the other one. Just how much fun can an intelligent woman have tussling with the muscles. (Well I guess I'll have to read the one about the wrestlers in the box set to find that out.)
I admit, there is a moment of unprotected penetrative sex. There was no actual unsafe release of bodily stuff so I am going to relax my no unsafe sex rule after having said how naughty that is, since the condom usage is adroitly put into the story for later experimentation. As you would expect from a good writer of the stable which produces C.J. Sneere's lush lovely stuff (Wild and Lawless Writers). Just tut a bit while you read that part of the story and go on to the part with the condoms. (Ooh, yum!)
I particularly wanted to include this story because it uses an unusually intelligent virginal
POV (point of view) rather than a blushing coy maiden one to tell you in a sexy way a lot about heterosexual sex for women. There is so much information in here it could be a how-to-do-it manual except that it's written in an exciting hot story. So if you were kinda wondering, this is a good place to find out ....