(XX)
This (free!) short story is my first proper piece of erotica writing. My aim was to pack as much sex into it as I could, which I did mostly through flashbacks. I had a ball writing it! and the female character has plenty of balls too - er, as it were <snerk>.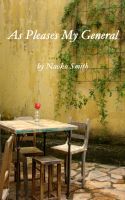 This is an erotic fantasy romance, the story of a man who likes women and a woman on a mission (with a bit of man-on-man as a bonne bouche for women who like men). Warning: this story is for over 18s only, it contains bisexual characters and graphic scenes of anal sex, oral sex and finger fucking – and domestic labour! ...

Unfortunately D'nar's immediate reaction was a grin of warm admiration. He felt an adrenaline rush and the erotic buzz of blood flowing to his penis and loins as he understood how thoroughly he had been deceived. Standing in the doorway of his house, he ducked his head shyly down like some foolish boy who wants to hide his emotions. But it was very many years now since he had been in the habit of ducking his head to hide boyish emotions.
...
When Commander D'nar of the Akhan of Tarknan's forces comes home to find his domestic slave has gone off with the Crown of Andarria entrusted to his care, he realises he would be happy to risk her vengeance for the pleasures of the body she occasionally enjoyed with him. But will the beloved Akhan take the risk?

You can download As Pleases My General for free.
PS Or link here to As Pleases My General on the Literotica site where it has had 2230 downloads as of just now (after 2 days) and readers' ratings give it the official

H

(for Hot).