(X)
Sweetly romantic and hot hot hot
Isabella finds more than words when she explores a letter containing a spiritual invitation from her far away lover. This erotic tale of love in pen lets you glance into the bedroom of lovers thousands of miles apart.
This erotic short story chronicles a simple letter as it bridges a thousand miles for two lovers longing for a deep connection after two years apart.
The author was pursuing a vivid sexual connection devoid of crude language in this tale of seduction and passion set in the early 1800s.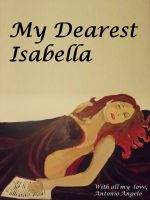 Antonio Angelo describes himself as ' just a guy that loves women'. This comes through his writing which is sensual and deeply respectful of women's pleasure.
My Dearest Isabella is probably the safest sex you can imagine, as the couple are thousands of miles apart, enjoying each other via a letter. That doesn't stop it being sensuous and satisfying. Some of the writing is a bit clunky but you can easily absorb that in your suspension of disbelief by thinking 'That's just how back woods men are: a bit inarticulate (sigh!)'.

Unsurprisingly, women readers love this story. Men are not quite sure. (I think they know deep down that it's sexy because they take the trouble to write about their doubt in reviews on the webpage.)