(XX)
I've read three in the Jack & James series and enjoyed the first two although I felt the third one was more of a filler.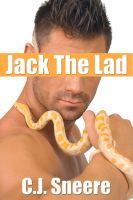 James attends his sister's wedding reception, where he tries to avoid the father he hasn't spoken to in six years by ducking outside. Behind a restaurant, he meets chaos in gaudy plaid pants and platform boots. A wild boy who goes by the name of Jack. Up against a brick wall, Jack takes James on a feral ride he'll never forget.
The sex in these stories is hot and explicit (especially in the second one when James goes and meets up with Jack in a pool hall ...) but there is a good storyline too. James's homophobic Dad is well bested by his lovely sister, who sticks up for James and just wants him to find a good man. And in Jack the Lad oh, doesn't he just!
Jack and James chat rather more than I had imagined gay men do but that too adds pleasure to the story, giving you the characters as people rather than just as gorgeous bodies.
You can also buy Jack the Lad, other Jack titles and a bundle of the entire Jack and James stories on Kindle.