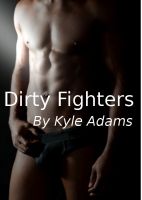 (XXX)
If you ever thought gay guys would be gentle soft feminine creatures, this is one to curl your hair for you.
Not that hair! I don't know, you clearly have exactly the kind of mind necessary to be reading the stuff reviewed on here.
One night. Two matches. Two equally ruthless fighters. Both will come out victorious. But only one will end at the top.


Dirty Fighters is a bloody bruiser of a story with a crunching fight sequence to kick off. The two fighters spar verbally with the cut and thrust wit more typical of Kyle Adams' sparkling style than of two blokes who like knocking the spots off other men but we don't care about that because they and we have such fun with it.

The sex is as dirty as the fighting - this is raw stuff, not for the fainthearted. Mentally as well as physically, the two struggle to boss each other about and determine who will be top, who will be bottom in a sophisticated yet highly physical sexual game. Adams demonstrates his mastery of style by producing a story so different yet equally exciting as Dirty Zero.