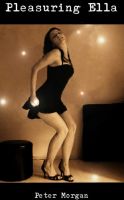 (XX)
This short free story
is
a hot and sexy quickie.
My name is Jack Edwards, I'm 43 years old and I'm recently divorced. Until my wife left me, I hadn't been on a date in about 15 years. Times have changed dramatically since then, so I'll be charting my adventures here.

This is a story about Ella, who wanted to do something outside. So, at a party at a friends of hers, we went out into the garden.
Pleasuring Ella is
a strong piece of typically masculine writing - not much plot, straight into the action.
I admire Pete Morgan for the way he wastes no time or words yet still manages to sketch sufficient of a background that you feel you know his characters and the scenario they are in. He saves his wordage for the sex scenes which are crammed with juicy details.
In this story, Ella, the lady of the piece, knows what she wants and can ask for it yet still be graceful and feminine. Jack is a perfect gentleman and gets much more pleasure himself because he enjoys pleasing Ella.