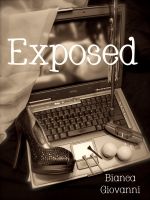 (XX)
With a gripping plot line, sparkling characters and sexy scenes, this series of stories beginning with a high school friendship/budding romance has unsurprisingly netted a string of 5 star reviews on Smashwords.
After achieving success in the porn industry, James Laird returns to his home town to visit his best friend, Lola Caraway, and must face his growing attraction to her on the night of her senior prom. A bombshell drops that may change James' world forever when he is forced to face consequences for his past decisions. Second short in Vice & Virtue series, takes place four years after First Dance.
Here I'm reviewing Exposed, the second in the series of short stories and novellas about Lola and James (also available on Amazon Kindle). To get the full flavour you should start with the first in the series First Dance. I'm reviewing Exposed because I think it's the better written of the two stories I've read so far; there are some rough patches of writing in both but y'know, we like a bit of rough here!
Bianca Giovanni thought up the James and Lola story series after a heated debate with a friend about 50 Shades of Grey and it wouldn't surprise me if with her racy plots and strong sex scenes she hit the big time in a similar way. With sexy James who can pull any woman he wants, she can load her stories with sex. His best friend, nerdy kind-hearted Lola, provides the chocolate box romance moments and Giovanni manages to get going a thrilling will-they-won't-they tension about whether they will end up doing it out of this unlikely although irresistibly attractive couple.
The sex is more edgy in First Dance and sweeter in Exposed. I like Exposed for how the casual sex is loving of women's bodies and of the many beauties which Giovanni draws to our attention about young women at a stage in life when they can be unreasonably insecure about their blossoming charms. I can't tell you about the other stories yet, only because I have stupidly brought up my child to be far too literate and inquisitive - forever looking over my shoulder in spite of my slamming the netbook shut. Otherwise I would have immediately begun gorging myself on the third short in the series and then gone straight on to the first novel. (Gosh the trials of combining erotica writing with being a mum - you have no idea! Still at least it was my friend's child not mine who started writing a sequel to The Hobbit starring a character called Dildo.)
The Vice & Virtue stories are currently available for free on Smashwords and for an exceedingly cheap price on Amazon Kindle.